Picking out the best types of kitchen countertops for your specific needs can be a challenge – especially because of how expensive most kitchen remodeling projects are.
You'll be stuck with your kitchen countertops for a decade or more. Because of this, it's important to choose the best kitchen countertops for your home improvement projects – based not only on price and attractiveness, but also on durability and longevity.
In this article, we'll walk you through the basics about the best types of kitchen countertops, and go through some kitchen countertops pros and cons regarding each different material. Read on, and learn with us.
Granite –
$2,240 – $5,600
Granite is certainly one of the best types of kitchen countertops out there, long prized for its unique appearance, durability, and smooth surface which helps keep bacteria from collecting in grooves and scratches.
One of the best parts about choosing granite for your home improvement project is how unique it is – being a totally natural rock, each individual slab of granite is visually stunning and totally unique from any other slab.
PROS
Unique material provides a distinguished, upscale look.

Resists heat, cuts, scratches

Resists stains when properly sealed

Huge variety of colors and types of granite are available
CONS
Requires periodic resealing to fight stains

Edges and corners can be chipped, requiring professional repair

Can be very expensive for larger kitchen remodeling projects
Quartz –
$2,240 – $5,600
Quartz countertops are another one of the best types of kitchen countertops for your kitchen remodeling project. These "engineered stone" countertops are crafted specifically for use in kitchens, built by blending crushed stone quartz with a high-quality polymer resin and coloring agents.
This allows quartz countertops to provide a stone-like appearance while requiring less maintenance – no sealing required. And because quartz countertops are man-made, you have a gigantic variety of unique colors and patterns to choose from.
PROS
Incredibly durable – resists heat from pots rested on surface, chips from serrated knives, abrasion, and stains.

No sealing required – unlike granite

Huge selection of colors
CONS
Chipping can be an issue on corners and edges

Chips require professional repair

Extremely heavy and requires careful, professional installation
Marble –
$2,800 – $8,400
Marble is the most expensive choice on our list – but it's still one of the best types of kitchen countertops available. Though it's expensive, it's truly beautiful, and white marble countertops have a brightness and a sheen that can't be achieved with any other type of material.
Marble offers a long-lived countertop that ages well – despite being somewhat prone to stains, a gorgeous patina develops over the life of marble that often makes it more attractive as it ages. This makes it one of the best types of kitchen countertops if you're planning on staying in the same home for a long time.
PROS
Doesn't conduct heat well – ideal for pastry chefs

Durable and beautiful

Easy to find – almost all stoneyards will have marble

Looks better with age
CONS
Very expensive

Can be scratched more easily than quartz or granite

Vulnerable to acidic wear – keep citric acids, tomatoes, etc off of the surface

Can be stained by some darker compounds such as red wine and fruit juices
Laminate –
$560 – $2,240
Laminate is one of the best types of kitchen countertops for a home remodeler on a budget. Laminate is essentially a very durable plastic compound that's "laminated" to a MDF (Medium-Density-Fiberboard) countertop, providing a lightweight, less expensive alternative to stone countertops.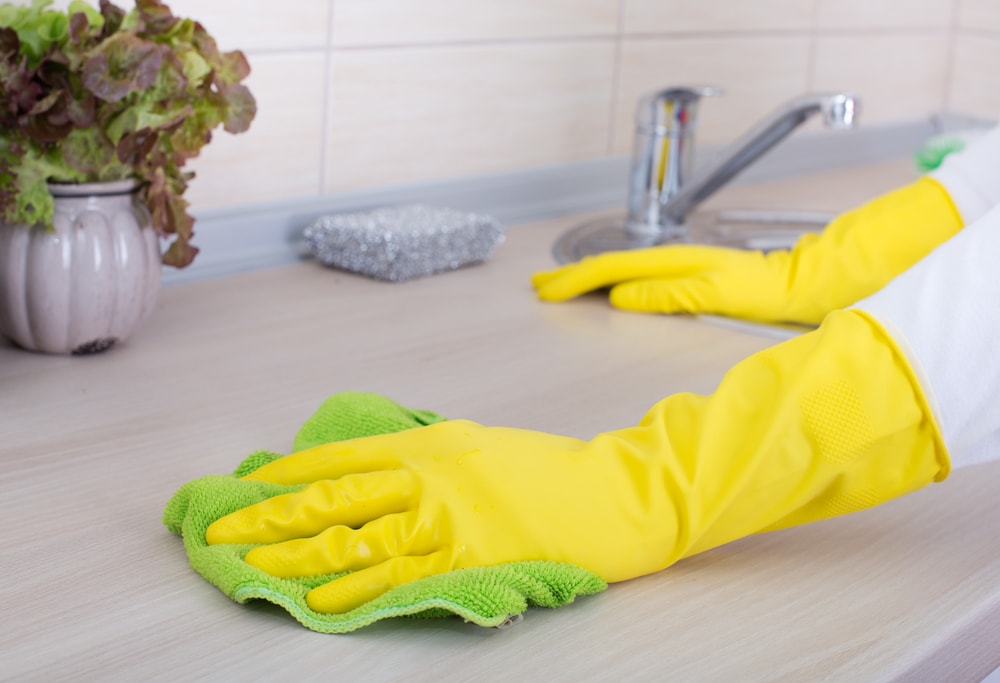 Modern laminate is durable, attractive, and inexpensive, making it a great choice if you don't have a huge budget for your home improvement project. It's also easier to install because it's not as heavy as stone countertops – perfect for DIY'ers.
PROS
Inexpensive

Easy to install

Huge variety of colors and styles

Resistant to heat and staining

Lightweight
CONS
Vulnerable to permanent damage/ scratching from knives – use a cutting board!

Standing water/moisture can cause laminate to peel

Won't last as long as stone countertops
Recycled Glass –
$3,360 – $6,720
Recycled glass is similar to quartz, maintaining similar durability that makes it one of the best types of kitchen countertops available – but it does have some differences. Rather than using natural quartz, recycled glass bits are used in a resin binder, allowing this material to have a smaller ecological impact.
In addition, recycled glass is available in a variety of kinds – large glass shards can be incorporated for a unique look, or finely-ground shards can be used for a smooth, contemporary, polished style.
PROS
Resists heat, stains, scratches, and moisture

Unique looks can fit any style

Recycled material is eco-friendly

Very durable and has a long lifespan
CONS
Can be extremely expensive for large-area countertops

Diversity of glass fragments may make it unattractive to some

Very heavy, hard to install without professional help

Butcher Block – $1,700 – $4,200
A butcher block countertop is made out of wood, and is a popular choice because of its versatility – hardwood can match the decor and style from any kitchen. Additionally, wooden countertops can be installed or adjusted with tools you probably have at home, so any last-minute measurement mistakes can be easily corrected.
That said, however, a butcher block must be treated like any other hardwood piece of furniture – standing water is bad news, which can make a butcher block a difficult choice for a large, messy family.
PROS
It won't dull your knives as quickly as granite or marble countertops
Any scratches can easily be sanded down and re-sealed
Very affordable, especially compared to some of the other countertop options
CONS
Requires constant care and regular maintenance
Must be kept clean and dry at all times
Needs to be refinished on a somewhat regular basis (every 2-3 years)
Not the best idea to install around sinks, because of the constant water problem
Concrete – $2,100 – $4,050
Concrete countertops are great to use if your kitchen needs a custom color or shape – because concrete is cast, it can be custom-made to fit your specific kitchen. Additionally, concrete countertops can be inlaid with decorations such as pebbles, seashells, or recycled glass.
Unlike any other type of countertop, concrete countertops edges can be shaped, giving your countertop a unique look. Look at these countertop edge designs for ideas!
PROS
Can be cast in any color or shape (even made to look like granite or marble!)
Custom edging
Durable, as well as scratch and heat-resistant
CONS
It needs sealing, because concrete is porous
Requires resealing every 3-5 years
Prices can be expensive, depending on the color, shape, and custom attributes of your countertop
Concrete countertops which are poured in place may develop a hairline crack due to the house settling
Find The Best Types Of Kitchen Countertops For Your Home Improvement Project!
Choosing the best types of kitchen countertops can be a struggle – but after reading through our reviews of these different materials and understanding the kitchen countertops pros and cons that they bring to the table, you'll have a much better idea of the type of material that is right for your kitchen remodeling project.
So don't wait! Your kitchen is begging you for a remodel – and using the best types of kitchen countertops on the market as outlined above can help you bring a new look, style, and utility to your kitchen.
Don't hesitate to contact David Barbale with questions about your kitchen countertops. David is an experienced general contractor who has been serving the Worchester County area for over 35 years.
Call David Barbale today!